NetEnt's overall objectives are to further strengthen its position as a leading global supplier of online casino games and system solutions, drive developments and to grow faster than the market.
Outcome: Since 2008, NetEnt has increased its revenues by an average of 23 percent a year (in euros), with the online casino market in Europe growing by 15 percent a year over the same period according to H2 Gambling Capital.
In 2018, revenues grew by 2.3 percent (Euro), compared to an estimated market growth of 11.8 percent in Europe. The aim is to continue growing organically together with new and existing customers by delivering the market's best gaming solutions..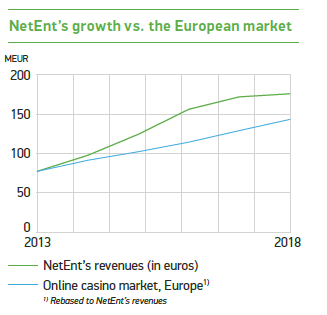 NetEnt's ambition is for dividend to amount to a minimum of 60 percent of net profit after tax, taking the company's long-term capital requirement into account.
Outcome: Since 2007, NetEnt's shareholders have received an average cash return equal to 78 percent of net profit.
The proposed dividend for 2018 is SEK 2.25 per share in the form of a redemption program, which is equal to 94 percent of net profit. The ability to generate earnings growth and stable cash flows provides scope for continuing strong cash returns to shareholders.