NetEnt launches brand-new Knight Rider Video Slot
With this latest video slot, NetEnt takes players back to the '80s to experience a legendary crime-fighting duo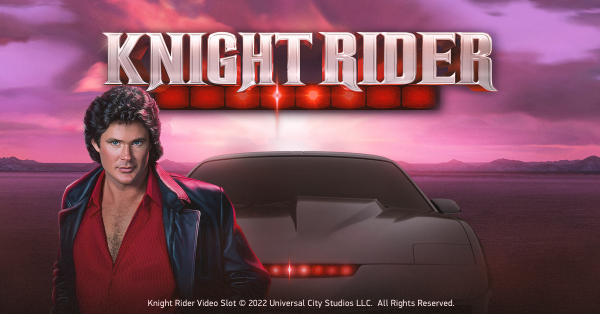 NetEnt, in collaboration with Universal Games and Digital Platforms, today announced the launch of the thrilling new Knight Rider Video Slot. Starring David Hasselhoff as Michael Knight, a crime fighter intent on justice, NBCUniversal's popular Knight Rider TV series aired four captivating seasons from 1982-1986. Branded games have been a pillar of NetEnt's slots portfolio for years, and this latest addition aims to introduce the series to a new generation of Knight Rider fans.
Bringing to life the most-loved facets of the show, this high-energy 5-reel, 4-row slot features Turbo Boosts, Free Spins with Laser Wilds, and an innovative wait-cutting Buy Feature. With a max win of 7000x, this high volatility game features original clips and sound effects from the show, and will have players hanging on to the edge of their seats.
Immersed in the classic Knight Rider universe and surrounded by familiar characters, such as Michael Knight and K.I.T.T., players can experience the thrill of Walking Multiplier Wilds, powering the video slot by appearing anywhere on the reels in both the main game and Free Spins. When these Wilds form part of a win, players won't lose them on the next spin, they stick and jump to the reel on the right with multipliers matching the reel they stick to, providing players more chances at bigger wins.
For those players that are looking for more Free Spins thrills to appear, they have the option of the Buy Feature, a button that can be activated for 140x the bet. Once this has been triggered, Free Spins begin immediately without a main game spin.
"This game brings back the '80s with style," said Todd Haushalter, Chief Product Officer, Evolution. "Knight Rider is a beloved classic and the team has done a great job at incorporating this world into the video slot. Knight Rider fans, both existing and new, are going to love being immersed in this iconic show, and we can't wait for players to take to the streets of LA and sink their teeth into all the fun the game has to offer."
For additional information please contact:
NetEnt is a leading digital entertainment company and part of Evolution AB, the premium provider of online casino content. It supplies high quality gaming solutions to the world's most successful online casino operators. Since its inception in 1996, NetEnt has been a true pioneer in driving the market with thrilling games powered by a cutting-edge platform. With innovation at the core of the company ethos, its talented team takes pride in delivering flexible digital casino solutions, so that its network of more than 200 global partners can provide their players with the best in immersive entertainment. NetEnt holds licenses in Alderney, Belgium, Gibraltar, Malta, Romania, Spain, and the UK, as well as the U.S. states of Michigan, New Jersey, Pennsylvania and West Virginia. Learn more at: www.netent.com
About Knight Rider
David Hasselhoff stars as Michael Knight in his breakout role as a crime fighter who awakens from a serious injury with a new identity. In the series premiere, Las Vegas police detective Michael Arthur Long is shot in the face and left for dead before being rescued by dying millionaire Wilton Knight, the chairman of Knight Industries and creator of the public justice organization, the Foundation for Law and Government (FLAG). Wilton makes Michael the primary agent for FLAG, giving him a new identity via plastic surgery and the name Michael Knight, plus an arsenal of equipment to continue his crime-fighting work. Principle among this equipment is the Knight Industries Two Thousand, or K.I.T.T. (voiced by William Daniels), a heavily modified and artificially intelligent vehicle with the ability to talk, fire weapons and travel at high speed. Michael and K.I.T.T. work together to take down criminals who operate above the law.
About Universal Games and Digital Platforms
Universal's Games and Digital Platforms group leverages the vast portfolio of IP and characters from NBCUniversal. The Games and Digital Platforms group is a business unit of Universal Brand Development, which is chartered with globally expanding the company's intellectual properties, franchises, characters and stories through innovative physical and digital products, content and consumer experiences. The company's extensive portfolio includes properties created by Universal Pictures, Illumination, DreamWorks Animation, and NBC Universal Television and Streaming. Universal Brand Development is part of NBCUniversal, a subsidiary of Comcast Corporation. www.universalbranddevelopment.com
Knight Rider Video Slot © 2022 Universal City Studios LLC. All Rights Reserved.